Everything You Need to Know About the CLEP Information Systems and Computer Applications Exam
College Level Examination Program (CLEP) exams are a series of tests administered by the college board of examination. They are proctored for a large range of topics, and allow takers of the test to gain college credit for areas they are already knowledgeable in.
There are 34 topics in total, and one of those is the Information Systems and Computer Applications exam. The questions on the test cover material that is similar to what would be taught in entry-level college business and information courses.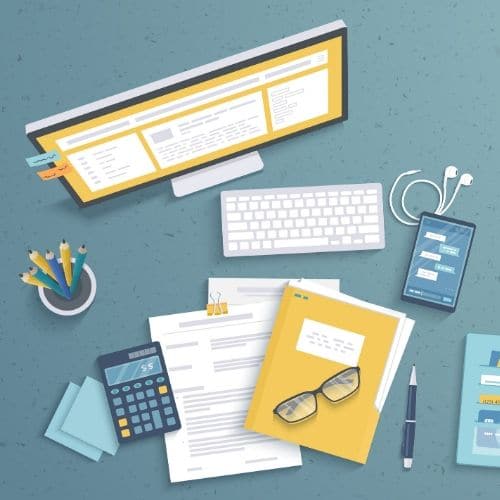 Who should take the exam?
The College Board emphasizes that anyone who wants to gain college credit in a field they are already knowledgeable in can and should consider taking a CLEP exam.
In particular, the information systems and computer applications test is geared toward those with knowledge in standard office software and hardware, as well as the social and ethical implications of a business.
For the most part, there are two categories of people who will opt to take the exam. The first is people starting college or returning to college for a new degree. Whether you have internship experience, are self-taught, or have worked in the industry for years, the exam can help you bypass college courses on topics you already know about.
Other people may choose to take the exam for the college credit alone and not pursue a degree. This can be for many reasons, but it is usually to solidify their knowledge in the field for career advancement purposes.
How does it benefit your education?
The benefits to your education are fairly transparent. By passing the exam, you will receive college credit for courses that cover the subject matter of the test.
The amount of credit you will receive will depend heavily on the university you attend or plan on attending. Some exams will provide you with 3 credit hours, others with 6. Generally, these credits are in core courses for either the college itself or a specific school within the university.
For reference, the College Board recommends 3 credit hours for a score of 50 on the clep computer information systems exam. That is the equivalent of a C, so some colleges may opt to increase the amount of credit given for a higher score.
It is important to confirm that your school accepts CLEP exams for credit before pursuing the test further.
If you are wanting to take the exam to replace a course you didn't receive credit for, you'll also want to check with your school first. Some universities will not give you credit for a CLEP exam that too closely correlates with a failed or incomplete class.
How can it advance your career?
While CLEP exams don't offer you a particular certification, they can boost your resume. For example, if you're up for a promotion at work, a passed CLEP exam in an applicable area can help solidify that you've progressed during your time at the company.
CLEP tests can also show your boss or potential employers that you have a hard work ethic, and a strong inclination to continue learning and advancing. This may land you on their short stack for raises, promotions, and new job opportunities.
How do you take the exam?
CLEP exams are taken on a computer at a certified CLEP testing center. There are over 2,000 locations across the country, and for most tests you will receive your results immediately after completion.
You can sign up to take the exam online, and pay your registration fee of $85. An additional $20 is required for immediate results. Otherwise, they will be sent to a school of your choosing at no charge to you.
What does the exam process look like?
The Information Systems and Computer Applications exam covers five areas of knowledge and skills. They are broken down into the following categories:
25% Information Systems and Office Applications
25% Programming Concepts/Data Management
20% Hardware and Systems
15% Software Development
15% Business, Social, and Ethical Implications
The clep computer information systems test will contain multiple choice questions, and takes approximately 90-120 minutes to complete. If you would like to take a practice exam, they are offered on CLEP's website through the Freshman Year for Free program.
From the website, you can also purchase the official study guide for $24.99. Free resources allow you to familiarize yourself with the content of the test and suggested study materials, as well as get acquainted with the testing software.
Overall, the CLEP Information Systems and Computer Applications Exam is a comprehensive test that covers a range of software, hardware, and other concepts that are generally taught in introductory business information courses. Passing the exam is a great way to earn your degree faster and in a much more affordable way.